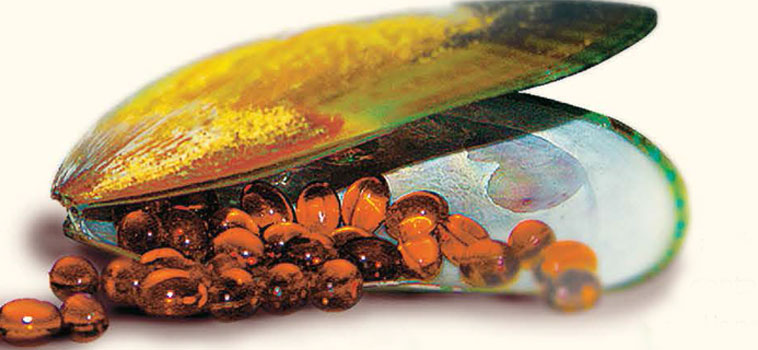 Mussel up to tackle arthritis pain
19 Oct 2005
Scientists are always on the lookout for solutions to medical problems provided by Mother Nature. New Zealand's well-known culinary mollusk the green-lipped mussel (Perna canaliculus) is helping to solve the age old riddle of arthritis pain, and is also attracting scientific attention around the world.
A distinguished French professor of pharmaceutical sciences at the Hong Kong Polytechnic, Dr Georges Halpern, wrote in his 2005 book The Inflammation Revolution that ''Researchers have found that the green-lipped mussel oil extract, which contains healthy omega-3 polyunsaturated fatty acids, is one of the best anti-inflammatory agents available."
Since the early 1990s a number of clinical studies have shown that the concentrated and stabilized lipid oil extracted from green-lipped mussels is rich in Omega3s and is a highly effective anti-inflammatory arthritis treatment. The active ingredients are extracted, isolated and stabilized against oxidation, ensuring the lipid oil contains concentrated health benefits and is protein free.
Research also revealed that the oil protects blood vessels and bone joints, and benefits the skin, bronchi and gastrointestinal tracts.
Stabilized lipid oil from mussels is more effective than cheap mussel powders and fish oils-gram for gram, far less is required for all the associated health benefits.
Natural relief
Adverse publicity surrounding some proprietary anti-inflammatory drugs has led millions of arthritis sufferers, asthmatics and others with inflammation-related disorders to seek safer alternatives. Some drugs, while reducing inflammation, can irritate the stomach, causing indigestion and bleeding from the stomach. There have also been reports of side effects related to heart attacks.
New Zealand's green-lipped mussel lipid oil, marketed under the brand name Lyprinol, is a natural alternative for safe and effective arthritis pain relief, and for restoring better breathing to asthmatics.
Link to original article: http://www.ncbi.nlm.nih.gov/pmc/articles/PMC1297507/