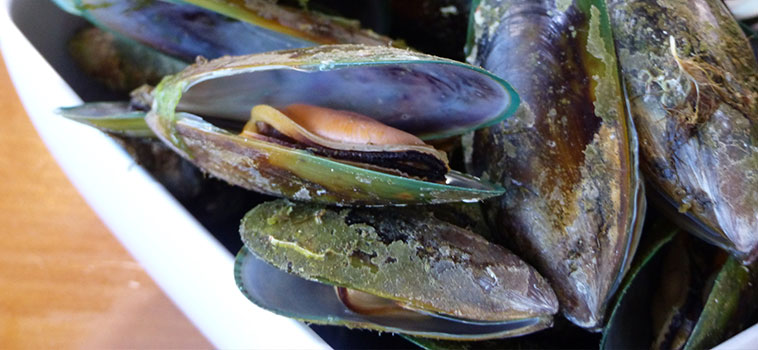 Foods that ease Osteoarthritis and Rheumatoid Arthritis
Part 03
December 2014
Our third article in the series looks at how Lyprinol® and OliveHeart® can improve the lives of those, who have to deal with the debilitating effects of osteoarthritis (OA) and rheumatoid arthritis (RA) on a daily basis.
As mentioned in the first article both Lyprinol® and OliveHeart® contain elements that are highly effective in treating inflammation. This is why they are so successful in helping those suffering from the inflammatory-based diseases, OA and RA.
Inflammation results when arachidonic acid converts into other compounds, e.g. the cyclooxygenases (COX-1 + COX-2) pathway changes it into prostaglandins and thromboxanes – collectively known as prostanoids, which are largely responsible for pain, fever and swelling – classic symptoms of OA and RA.
Lyprinol®
A vast body of clinical studies exist that show, just how effective Lyprinol® is in treating OA and RA. In 2013, a Polish study on 50 clinically diagnosed patients showed compelling results - 76.7% rheumatoid and 70% osteoarthritis patients showed improvement after the trial. These results were confirmed in other studies. A similar study showed an 89% decrease in pain and a 91% increase in quality of life. These studies are just some examples of the research that has been done to confirm Lyprinol's® potential as a complementary therapy for OA and RA sufferers. Another characteristic that makes Lyprinol® spectacular and shows its potency as a natural healing approach for OA and RA, is that it does not present the side effects of traditional NSAIDs such as ulcers, bleeding and kidney failure.
Olive Heart®
Well documented scientific studies have shown that olive oil also has many of the properties of NSAIDs and is a great, natural pain reliever and acts as a potent anti-inflammatory. Also known as the most potent natural antioxidant, it plays a vital role in alleviating age-related degenerative or chronic illnesses such as arthritis of the knee. A recent study focussed on the benefits of hydroxytyrosol, the active ingredient of OliveHeart®, and found that people who consumed low levels of olive oil were 2.5 times more susceptible to RA than those who consumed large quantities. Another Italian study found that hydroxytyrosol could greatly benefit people suffering from OA, as it reduces the markers of inflammation that cause it.
A daily dose of Lyprinol® and OliveHeart® can, therefore, offer you a two-pronged approach to improved mobility, less pain and joint stiffness.
Our next article is for those suffering from asthma and will focus on a natural approach to alleviate tightness, night-time attacks and wheezing. See you then.
Don't miss out also reading Part 01 and Part 02 in the series:
- http://www.masterhealthproducts.co.za/better-health/can-food-be-considered-medication-part-01/
- http://www.masterhealthproducts.co.za/better-health/can-food-be-considered-medication-part-02/