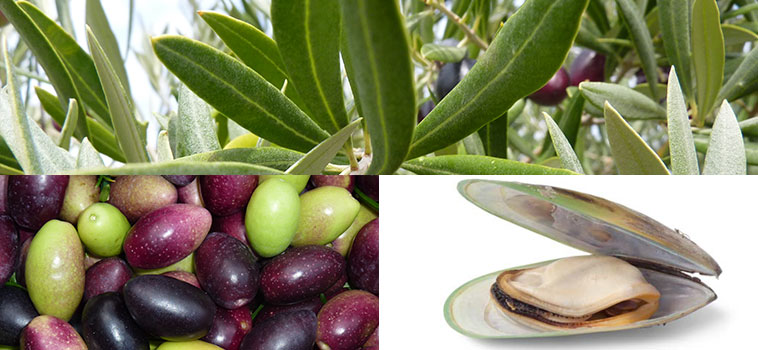 Can Food be Considered Medication?
Part 01
September 2014
Today, so many of us reach for the nearest tablet to restore our health. In a way, this can be construed as strange because a wide range of natural foodstuffs have the same or similar effects to regain and maintain our health if we include them in our diet.
Over the next couple of months, we will run a series of articles that will focus on the synergy between two natural foodstuffs that can be used very effectively and easily to ensure optimal health. They are OliveHeart, a deliciously fruity, healing olive oil and Lyprinol, an extract from the New Zealand green-lipped mussel, which has taken the world by storm because of its amazing ability to counteract the effects of rheumatoid arthritis, osteoarthritis and asthma.
Each, individually, has a wide range of benefits for a number of conditions, but together they ensure a smorgasbord of health for the body.
OliveHeart
OliveHeart hails from Spain and forms part of the Mediterranean diet, which is renowned for reducing both heart problems and cancer. It recently received a Gold Award in the New York Olive Oil competition. OliveHeart is classified as a HPEVOO (High Polyphenol Extra Virgin Olive Oil) – the highest rating that can be accorded to an olive oil. For an olive oil to receive this accreditation, it must adhere to the following:
Only high quality fresh olives can be used to extract the oil manually
The oil must have a free fatty acidity of 0.8 percent or lower and peroxides at less than 20 milliequivalents per kilogram
It must contain polyphenols and antioxidants
It must be pure, containing no solvents, seeds, nuts or pomace
The temperature during processing may not exceed 30°C
And finally, it has to pass a taste test by the International Olive Council (IOC)
The harvesting and processing can also be pretty tricky. The correct varieties of olives need to be picked at the right time in the right way; the weather needs to be perfect and the method of preservation needs to ensure that the olives retain their high polyphenol content.
What makes OliveHeart polyphenols extraordinary?
Originally, scientists thought that it was the MUFAs (monounsaturated fatty acids) in olives that were the biggest contributors to health. Recently, however, they discovered that it is the high polyphenol content that makes olives so valuable in reversing diseases or maintaining basic health. According to Nasir Malik, a research plant physiologist at the U.S. Agriculture Department: "The health benefits of olive oil are 99 percent related to the presence of the phenolic compounds (polyphenols), not the oil itself". Polyphenols are found in plants and are regarded as the most potent antioxidants currently known to man. Combined with their ability to fight inflammation they have become essential in helping to prevent or treat a number of debilitating diseases. These include heart diseases, strokes, diabetes, arterial blockages, obesity, cancer, rheumatoid arthritis and osteoporosis.The implications are vast and we will unpack the extensive benefits during this series of articles.
Lyprinol ® PCSO-524TM
Although formally known as Lyprinol® PCSO-524TM, for the purpose of this article, we shall just refer to it as Lyprinol.
Lyprinol has been identified as one of the most effective natural preventative treatments for osteoarthritis, rheumatoid arthritis and asthma. An added benefit is that people with seafood allergies can safely take Lyprinol as it contains no protein.
Studies have shown that Lyprinol can be twice as effective as traditional NSAIDs (non-steroidal anti-inflammatory drugs) such as Ibuprofen yet, they do not expose the user to any of the unpleasant side-effects. This is partly due to its rare combination of five lipid groups, including omega 3s, which are all powerful defendants against inflammation. They also protect tissues and organs, provide energy, transport certain vitamins and control body temperature.
Continuous research is beginning to show that Lyprinol can be used to combat a number of additional inflammatory conditions, such as DOMS (Delayed onset of muscle soreness), heart disease, strokes, atherosclerosis (hardening of the arteries), cancer and depression – but more of that later on in the series.
The next article in the series will show how these two foodstuffs can help to improve cardio-vascular diseases, so join us next time as we explore the first level of eating yourself healthy.
Don't miss out also reading Part 02 in the series: http://www.masterhealthproducts.co.za/better-health/can-food-be-considered-medication-part-01/